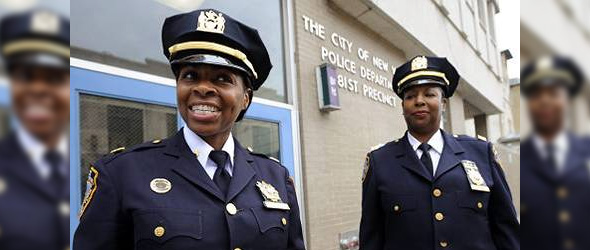 Source: John Doyle / New York Daily News

Deputy Inspector Juanita Holmes and Capt. Vanessa Kight are a crime-busting duo making NYPD her-story.
For the fist time in the annals of the 166-year-old police force, two black women are the top cops in command of a city precinct.
"When I got the call, I was really quite surprised to learn I was making history. I was just looking for someone to do the job," Holmes said of Kight's appointment. "I'm very grateful to have her."
Holmes, one of just three African-American female deputy inspectors on the force, was made commander of the 81st Precinct stationhouse in Bedford-Stuyvesant, Brooklyn, a year ago. She celebrated her 24th anniversary with the NYPD yesterday.
To follow this topic visit the New York Daily News.
Sphere: Related Content
Related Posts
Shaq Wants To Fight Former Knicks Big Man
Outkast's Big Boi Busted For Viagra And Ecstasy
Nicki Minaj Has Wardrobe Malfunction, Flashes Nipple On
'Fox And Friends' Infuriated Over President Obama's Proclamation
Man Allegedly Straps 'Collar Bomb' To Teen, Demands
Rihanna Rocks Barbados In Jaw-Dropping, Skimpy Outfit
Judge: Anger Management For Woman Spraying Cops With
Budget Cuts Claim Hundreds Of Thousands Of County,
MLK Memorial Dedication Sunday (VIDEO)
"Unusual" Meeting Between US, Iran Over Plot (VIDEO)