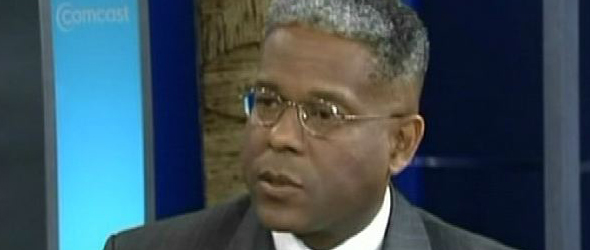 Source: Marin Cogan / Politico
Politicians across the country are finding all sorts of ways to mark the 10th anniversary of the 9/11 attacks, but Rep. Allen West's event stands out for its unique twist: He invited family members of 9/11 victims to the Capitol to view a controversial film about construction of the Ground Zero mosque.
West, a tea party favorite who has sparred with Muslim and other religious groups for his controversial statements on Islam, told the friendly crowd Wednesday that "my fear is that maybe we could end up forgetting what happened on 9/11 because of certain things such as political correctness or this desire to be a multicultural America. But in being a multicultural America we must never forget the fundamental principles and value that make us great."
West also told the audience "I think we have to understand that the major religions of this world—Judaism and Christianity—did go through reformations. Now we look at this next major religion," he said, referring to Islam, "they need to go through a reform process as well."
The movie, "Sacrified Survivors," which was produced by a conservative Christian group, features family members of victims of the 9/11 terrorist attack arguing their opposition to the mosque. A handful of those family members were on hand to intone against the mosque, including Jack McDermott, whose son Matt died in the World Trade Center. "I think it's a tragedy that people are attempting to do something which is very distasteful to me, and I will support anyone or anything that's done to put a stop to it," McDermott said Wednesday.
To read this article in its entirety visit Politico.
Sphere: Related Content
Related Posts
Barbara Jordan Stamp To Be Issued
John Kerry Says He Won't Accept Campaign Contributions
Robert Johnson, Black Leaders Press President Obama On
Rep. Allen West Picks A Fight With Dems
Allen West: I Am The Modern-Day Harriet Tubman
Peter King Asks For Probe Into White House's
Debt Deal Complicates Liberals' Support
James Clyburn Urges President Obama To Invoke 14th
Michele Bachmann's Denomination Affirms That Pope Is 'Antichrist'
Rep. Steve King Says President Obama "Would Be