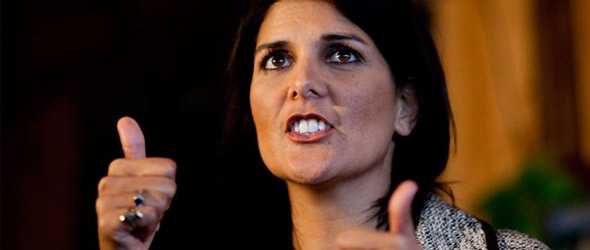 Source: Hal Millard / Patch.com

Gov. Nikki Haley said Thursday she wants to institute drug testing for people who apply for state unemployment benefits.
"I so want drug testing," Haley told a receptive, hometown gathering of Rotarians at a breakfast reception held at the Country Club of Lexington. "It's something I've been wanting since the first day I walked into office."
However, Haley stopped short of proposing any such testing for those who receive welfare benefits, including those on food stamps.
Florida Gov. Rick Scott recently signed into law a measure that requires welfare recipients to pass annual drug screens. However, early indications are that the measure is unlikely to save that cash-strapped state any money, and is highly vulnerable to costly lawsuits on constitutional grounds, analyses show.
To read this article in its entirety visit Patch.com.
Sphere: Related Content
Related Posts
California Farm Recalls Lettuce Amid Listeria Concerns
Officials: Girl Stabbed 40 Students With Needle
Bodies Hanging From Bridge In Mexico Are Warning
FINANCIAL TIMES: President Obama To Propose Medicare And
Mom Fired After Taking Off To Donate Kidney
USDA To Ban Six New E. Coli Strains
HUFFINGTON POST: Mississippi 'Personhood' Law Could Ban Abortions
Woman Sickened By Fumes At Georgia McDonald's Dies
Teen Births Cost Mississippi $154M, study finds
Appeals Court Favors Obama Health Care Law