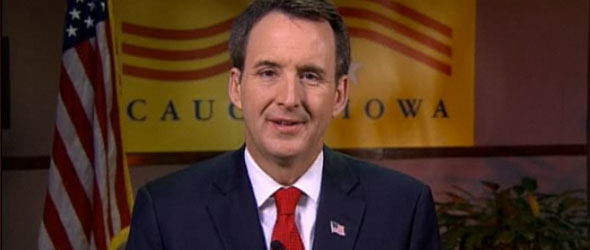 Source: Matthew Jaffe / John Berman / ABC News
One month ago Tim Pawlenty was on a stage in Iowa debating against Mitt Romney, but today the former Minnesota governor — no longer in the presidential race — became a national co-chair for Romney's campaign.
"Mitt Romney is fighting for the same things I fought for as governor and during my campaign for president," Pawlenty said today. "As a former blue state governor, I appreciate what Mitt was able to do in Massachusetts. He created jobs and balanced his budgets without raising taxes – even with an over eighty percent Democrat legislature. That ability to get things done is what we need in our nominee."
"In addition," Pawlenty continued, "he has a background which is unmatched – his understanding of the private sector proves he knows how jobs are created which will be critical in turning our economy around. I am proud to endorse his candidacy for president of the United States."
Pawlenty and his wife flew to New Hampshire and spent the day–and overnight–at the Romney's Wolfboro lake house in early September, according to a Romney aide.
Romney asked for the endorsement then, and then a few days later, Pawlenty agreed, based on his view that Romney was the best candidate to lead on the economy.
To read this article in its entirety visit ABC News.
Sphere: Related Content
Related Posts
Obama Campaign/DNC Raise $86 Million In Second Quarter
Tim Pawlenty Blasts President Obama On Economy, 'Class
ABC News Poll: Romney Even Against Obama In
Republican Tim Pawlenty Running As Fiscal Fix-It Man
ABC EXCLUSIVE: Bill Clinton Calls 'Birther' Doubts About
Donald Trump vs. Whoopi Goldberg On Obama Birth
ABC Exclusive: Donald Trump Would Spend $600 Million
President Obama: 'I Don't Think About Sarah Palin'
Huntsman To Boycott Presidential Debate
President Obama: My Odds Are Better In 2012