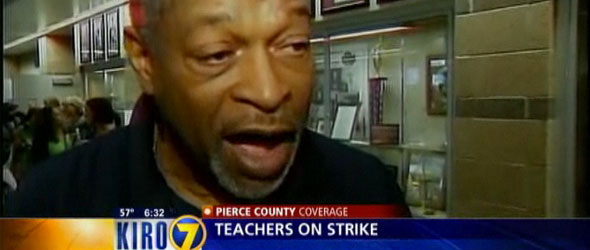 Source: AP/ CBS News

Tacoma, Wash. – Teachers in the Washington city of Tacoma voted overwhelmingly Monday evening in favor of a strike.
That means after only seven days of school, the 28,000 children in Washington state's third-largest school district will be staying home Tuesday. Tacoma Education Association spokesman Rich Wood said 87 percent of the union's total membership voted to walk out.
Tacoma School District spokesman Dan Voelpel said the district will seek an immediate court injunction Tuesday to terminate the strike, which school officials contend is illegal. Superintendent Art Jarvis will revisit the decision to keep school closed in light of whatever happens in court, Voelpel said.
Voelpel told CBS News affiliate KIRO-TV of Seattle that teachers are refusing to bargain or budge from their demands.
To read this article in its entirety visit CBS News.
Sphere: Related Content
Related Posts
California High School Evacuated After Bomb Threat
Memphis Teacher Found Dead; Student In Custody
Feds "Looking Into" Atlanta Schools Cheating
Michigan Ban On Race In College Admissions Illegal
Georgia Elementary School Teacher Strips At School
Union: 19,000 Educators Get Pink Slips In Calif.
State Orders Detroit To Close Half Its Schools
Herman Cain To "Occupy Wall Street" Protesters: Don't
A Safe Place For Chicago Youth: Common Introduces
Last-Ditch Effort Underway To Stop Ga. Execution