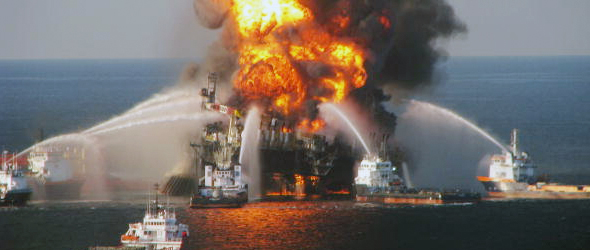 Source: Washington Post

A 16-month federal investigation has concluded that BP's efforts to limit costs on its mile-deep Macondo well in the Gulf of Mexico contributed to the disastrous blowout last year that killed 11 workers and sunk the giant rig Deepwater Horizon.
WATCH: Washington Watch with Roland Martin, 07.11.10, Video Podcast [Gulf Coast Edition]

"BP's cost or time saving decisions without considering contingencies and mitigation were contributing causes of the Macondo blowout," states the long-awaited report by the Bureau of Ocean Energy Management, Regulation and Enforcement.
The report, based on months of hearings and testimony from rig workers and engineers, skewers BP for dozens of mistakes, questionable moves, and a general failure to appreciate the risks of drilling, and then temporarily abandoning, the well in 5,000 feet of water. It also finds abundant fault among BP's contractors, including Transocean, which owned the doomed rig, and Halliburton, which cemented the well.
BOEMRE conducted its inquiry alongside the Coast Guard, which released its findings earlier this year. Since the blowout, BP, Transocean and Halliburton have traded accusations about which party was most to blame for the disaster. BP and Transocean have released their own reports, for most the part finding fault in the other company.
To read this article in its entirety visit The Washington Post.
Sphere: Related Content
Related Posts
BP Wants To Stop Paying Gulf Oil Spill
BP Recovery Money Fuels Gulf Spending Spree
Elizabeth Warren Announces Campaign For Senate In New
Andrea Mitchell Announces Breast Cancer On Air
Teamsters' Hoffa Stands By Labor Day Remarks About
Appeals Court Strikes Down Health Overhaul Requirement That
Facebook 'Phonebook Contacts' Stores Your Friends' Phone Numbers
Applications For Unemployment Aid Fell Last Week To
3 More Buttocks Slashings In Fairfax Stores Reported
President Obama To Host Iftar Dinner Celebrating Ramadan