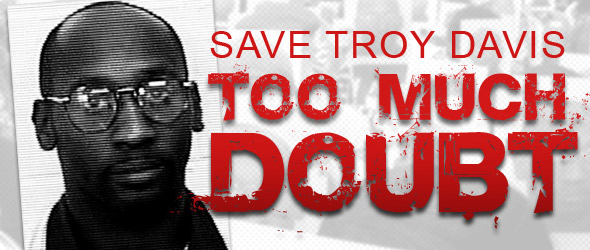 Source: Melanie Eversley / USA Today

A social media campaign to stop an execution in Georgia next week is drawing support from hundreds of thousands of people around the world.
Celebrities, Nobel laureates and national leaders have joined the NAACP, Amnesty International and the grass-roots group Change.org to urge Georgia authorities to grant clemency to Troy Davis, who is scheduled to die by lethal injection Wednesday. They are flooding Twitter with several tweets a minute, signing online petitions and, starting today, planning to rally around the country.
Davis, 42, was convicted of the 1989 shooting death of Savannah, Ga., police officer Mark MacPhail. His supporters say he is innocent, noting that 10 witnesses in the case have signed affidavits recanting their testimony and indicating that police coerced them into implicating Davis. They also point out that nine people have signed affidavits implicating another man.
The case has attracted attention for years. Former president Jimmy Carter, Pope Benedict XVI and Nobel laureate Desmond Tutu are among the prominent figures who have urged that Davis' life be spared.
The latest effort, triggered when a new execution date was set last week, includes celebrities John Legend, Mia Farrow, Bianca Jagger and the Indigo Girls. All are tweeting under #TooMuchDoubt, a hashtag, or search term, devised by Amnesty International and the NAACP. Davis supporters also have created Facebook pages.
"In the moment, when our nation stumbles toward complete failure of its justice system, we have to give every citizen the opportunity to express their outrage and their intention that the state not do this in their name," NAACP President Benjamin Todd Jealous says. "When the state executes an innocent person, every citizen is implicated in that act."
The tweets ask the public to contact the Georgia State Board of Pardons and Paroles — the group with the authority to halt Davis' death — and to urge the panel to grant clemency. They also ask people to sign one of three petitions the groups are circulating online.
"I think the key thing we are trying to express to the Georgia authorities is there are just so many doubts," says Laura Moye, death penalty abolition campaign director for Amnesty International USA.
The board is scheduled to meet Monday to consider the case. If it does not grant clemency, there is no official next legal step, but "we are not going to stand by quietly if that is what happens," Moye says. The NAACP also is calling on Chatham County, Ga., District Attorney Larry Chisolm to move to withdraw the death warrant, Jealous says.
Representatives from Amnesty International and the NAACP presented four petitions with more than 660,000 signatures to the state parole board Thursday. An online petition sponsored by Davis' sister, Kimberly Davis, and Change.org has collected more than 233,000 signatures.
The NAACP has declared today a Global Day of Action around the country. Events include a rally at Ebenezer Baptist Church in Atlanta, the church of Martin Luther King. Amnesty International is sponsoring a Global Day of Solidarity in support of Davis.
To read this article in its entirety visit the USA Today.

Sphere: Related Content
Related Posts
Budget Cuts Claim Hundreds Of Thousands Of County,
Ready For Some Controversy: Hank Williams Compares Golf
California Farm Recalls Lettuce Amid Listeria Concerns
Parole Board Denies Clemency For Troy Davis
Troy Davis' Legal Team Finishes Making Its Case
Last-Ditch Effort Underway To Stop Ga. Execution
Clemency Sought For Troy Davis (VIDEO)
President Obama: Jobs Plan Will Block Double-Dip Recession
Appeals Court Favors Obama Health Care Law
Troy Davis' Execution Date Set By Georgia Authorities