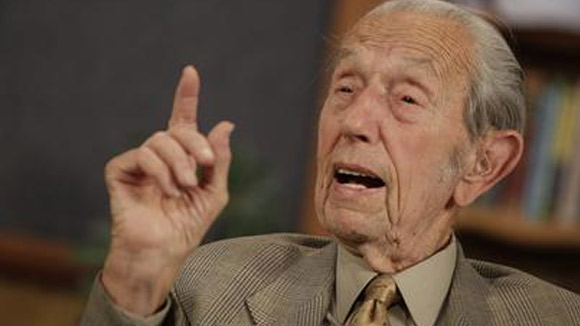 Source: Douglas Stanglin / USA Today

Family Radio Network preacher Harold Camping, whose prediction for the end of the world on May 21 misfired, now says that his new date of Oct. 21 looks like the real thing, well, probably.
"A lot of things we didn't have quite right will probably be finished out on Oct. 21," the 90-year-old Campng says in a message on his Family Radio Network website. "That looks like it will be at this point, looks like it will be the final end of everything."
After the May 21 debacle, Camping initially said he was "flabbergasted," but then announced that it had in fact been a "spiritual" End of the World, and that would culminate in the finally, final end on Oct. 21, Time reports.
Hundreds, if not thousands, of followers, including many who had left their jobs, had contributed money for billboards warning of the coming Doomsday. The Los Angeles Times reported that the worldwide campaign cost $100-million campaign for caravans and advertising, financedby the sale and swap of TV and radio stations.
To read this article in its entirety visit the USA Today.
Sphere: Related Content
Related Posts
Rev. Zachery Tims, Senior Pastor Of New Destiny
President Obama To Host Iftar Dinner Celebrating Ramadan
'Fox And Friends' Infuriated Over President Obama's Proclamation
WATCH: Religious Leaders Arrested At Capitol For Budget
Faith Leaders Arrested In Capitol Hill Protest To
Minister Allegedly Operating Sex And Rave Clubs As
Bishop Eddie Long Had Fifth Accuser in Sexual
Michele Bachmann's Denomination Affirms That Pope Is 'Antichrist'
Michele Bachmann Officially Leaves Her Church
'Real Housewives Of The Bible' Debuts (VIDEO)