Source: Corbett B. Daly / CBS News
CBS News Poll analysis by the CBS News Polling Unit: Sarah Dutton, Jennifer De Pinto, Fred Backus and Anthony Salvanto.
Businessman Herman Cain is now atop the field of Republican White House hopefuls, squeaking past former Massachusetts Gov. Mitt Romney in the latest CBS News/New York Times poll.
Cain garnered 25 percent support of Republican primary voters in the poll released on Tuesday, compared to Romney's 21 percent.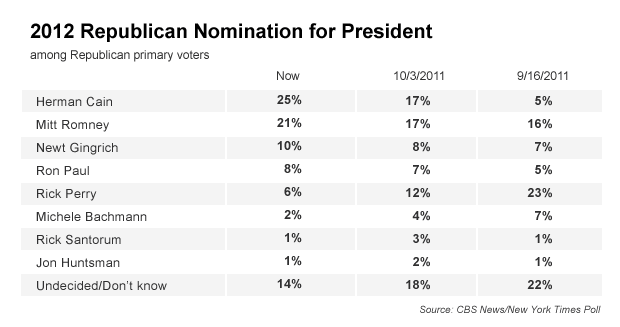 To read this article in its entirety visit CBS News.
Sphere: Related Content
Related Posts
ROLAND S. MARTIN: Cain Better Get Serious If
NATIONAL REVIEW: New Editorial Says Cain's 9-9-9 Plan
Herman Cain To "Occupy Wall Street" Protesters: Don't
Texas Gov. Rick Perry Jumps Into 2012 Republican
Herman Cain Says Jon Stewart Mocked Him Because
Newt Gingrich Had $1M In Credit At Tiffanys
Obama Campaign Mocks Birthers With Birth Certificate T-Shirts
Newt Gingrich reportedly owed up to $500,000 to
GOP Hopefuls Not Worried By Obama's Poll Bump
Haley Barbour Criticized For Praising Segregationist Group